The ZiS 150 Fire engine – Street Cleaner and Movie Star
September 16, 2018
The ZIS 150 displayed in the Firefighters Museum Kiev
PM-8 truck was designed purposefully for washing and cleaning the streets, squares and passages with improved hard surface, and  could be used as fire engine and for watering greenery as well.
For winter time a #snowplow is mounted on the truck.  A large water tank was mounted on the chassis of the #ZIS #truck behind drivers cabin. The tank chamber is connected to the pump through a filter and central valve.
Pressure from the pump is delivered through pipeline to the nozzles.
For filling the tank from city water conduit, a special device, named stender or fire wheel, is mounted on the Zis 150 . Filling is carried by through the filling pipe on the back of the tank. Excess water flows out through the overflow pipe. Filling of the tank  could be performed also from the open water reservoirs with the help of the special suction hose. The hose is driven by the engine to the pump and filling is carried out through the pump.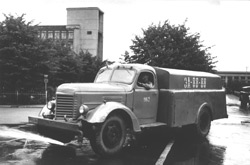 The #Pm88 also had a role as a support  #fire engine
Fire hoses with fire-hose nozzles  are attached to one or both ends of hoses.
The pump been driven through the transmission is done through the power take off box, mounted on the gear box. The #tank,  and equipment are concealed behind panels, and were usually branded with the town or area.
In the Movies
The Zis 150 made a movie apperance in the 1963 film based on a earlier musical stage show. The film was one of the most popular soviet era movies of the 60s and 70's.
CHERYOMUSHKI (CHERRY TOWN)
USSR, 1963, 92' #Lenfilm Director: Herbet Rappaport
A fictional musical comedy, screen adaptation of the Moscow – #Cheryomushki, an operetta by Dmitry Shostakovich dealing with the eternal housing issue. Lida Baburova, a young architect, was given an apartment in the new Moscow district; she took her father to look up her new home. Right in front of their eyes one of the apartment's walls gets ruined. Turns out the head of the building trust, the inhabitant of the building, has decided to expand the size of his apartment, driven by the whim of his young wife…
The film was a hit in 1963 in #Soviet Union, 28.8 million viewers had seen it. Cast: Olga Zabotkina, Vladimir Vasilyev, Vasiliy Merkuryev, Yevgeny Leonov.
JagerHobby Radio Controlled #Zis150 #ScaleModel #Truck